WE ARE WORKING TO KEEP YOU SAFE
LOBBY ACCESS IS UNAVAILABLE BUT WE ARE HERE FOR YOU!
In the best interest of our members, employees and the community, and in accordance with CDC's recomendations, lobby access at Tigers Community branches is temporarily suspended.
---
Branch BANKING ACCESS
We are working hard to limit disruption to your banking needs. Please use the following the following locations for banking service:
BRANCH-BLUFF CREEK AT GRINDSTONE
Drive-up ATM– 24 hours with check and cash deposit
Depository Drop Box
(During lobby service disruption Night Deposit will be processed multiple times per day)
BRANCH-DOWNTOWN ON 9TH
Walk-up ATM–24 hours with check and cash deposit
Depository Drop Box
(During lobby service disruption Night Deposit will be processed multiple times per day)
OUR NEW DRIVE-UP ATM
4320 Faurot at the intersection of Scott and Smith
24 hours
Check and cash deposit
Cash withrawal
WALK-UP ATM
308 Ninth St. Columbia
WALK-UP ATM
909 Hitt St. Columbia
WALK-UP ATM
911 East Rollins St. Columbia
---
MAKE YOUR LOAN PAYMENTs ONLINE
To make your loan payment with a debit card using our online payment option click here. We are currently waiving the convenience fee of $7 that applies. Loan payments made after 3:00 pm will be applied the next business day.
---
DIGITAL BANKING ACCESS AND SUPPORT
If you need help setting up digital services our staff is ready to assist. These services are extremely convenient anytime, but are especially critical now. Call (573) 443-8462 and our knowledgeable Member Services Consultants can help you get started and teach you how to bank on your phone, tablet or computer.
The safest and easiest way to access your money 24 hours a day during this outbreak is through our digital banking services.
Bank on Your Computer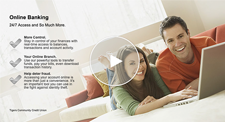 24-hour secure access to real-time account information and banking capability from the convenience of your computer.
Pay Bills
Transfer Money
Manage all your accounts
Check your credit score
ENROLL IN ONLINE BANKING
Bank on Your Mobile Phone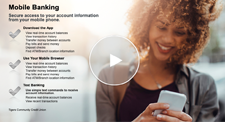 WIth an eligible account, a smartphone and internet access, you can conveniently and securely access your accounts anytime, anywhere.
Deposit Checks
Manage Accounts and Pay Bills
Transfer Money
Check your credit score
Pay Bills Online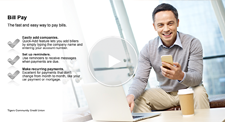 Use Online Banking to pay your bills electronically from your Tigers Community accounts. Bill Pay is safe, secure and easy to set up and use.
Next Day Payments
Account to Account Transfers
Receive eBills
Set up Automatic Payments
---
Limited scheduled appointments are available for services that can not be handled at an ATM, or with our digital services. Call (573) 443-8462 to inquire about appointment times. NOTE: If you are experiencing symptoms, we are unable to see you in person. However, we will do everything possible to manage your needs over the phone.
---
PROTECT YOURSELF FROM CYBER SCAMS
It is important to note that if we reach out to you, we will NEVER ask for confidential information such as your name, password, personal identification number (PIN) or other account information. You can review the Federal Trade Commission's advice for consumers to protect yourself from scams.
---
SBA Providing Disaster Assistance Loans for Small Businesses Impacted by Coronavirus (COVID-19)

The SBA is working directly with state Governors to provide targeted, low-interest loans to small businesses and non-profits that have been severely impacted by the Coronavirus (COVID-19). The SBA's Economic Injury Disaster Loan program provides small businesses with working capital loans of up to $2 million that can provide vital economic support to small businesses to help overcome the temporary loss of revenue they are experiencing. Small business owners in many states are now eligible to apply. Apply for disaster assistance.
In addition we are actively working to utilize the SBA Paycheck Protection Program for our existing members.
---
COMMUNICATION UPDATES
Throughout this crisis, our goal continues to be to ensure the health and safety of you and our employees while providing you minimal interrupted access to our services. Like you, our employees are dealing with the health and safety of their families and managing their lives. With that in mind, we ask for your patience and understanding in an effort to help our employees through this crisis as we temporarily suspend lobby access at all our branches.
We will continue to monitor the situation and communicate through email, our website, and our social media channels.